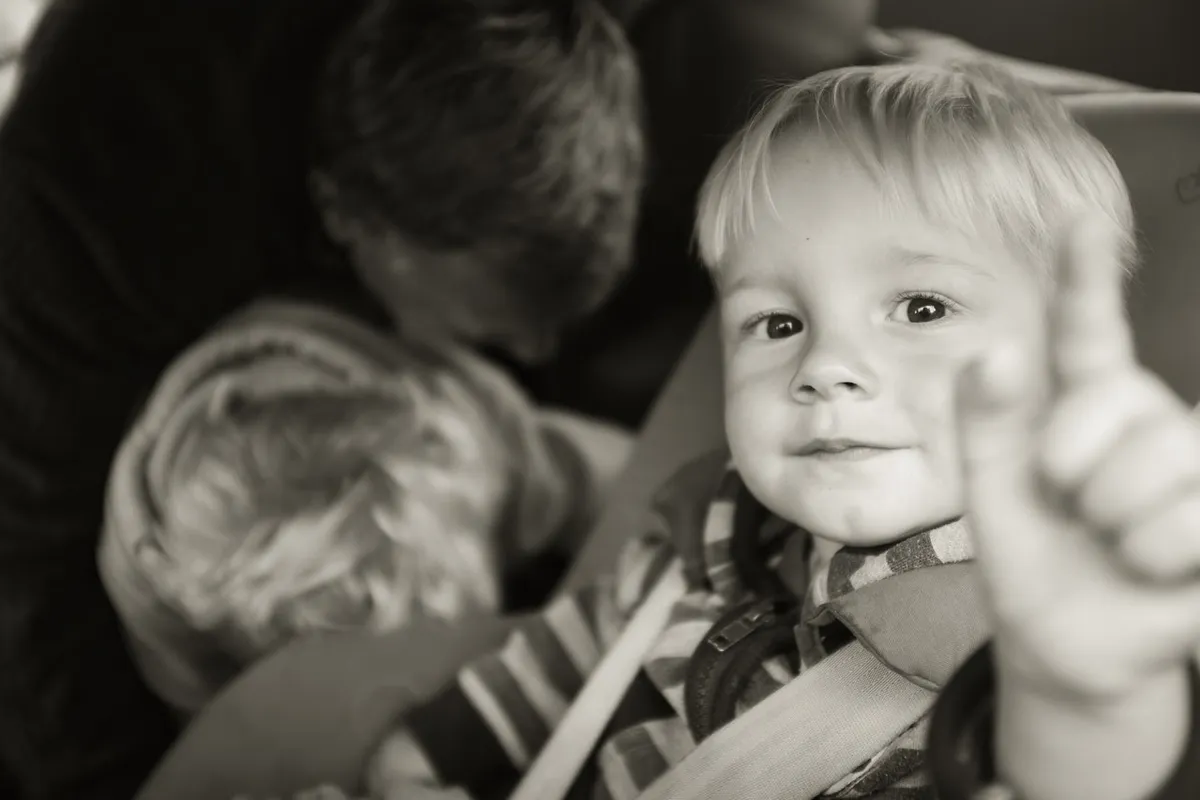 How safe is your child in the car?
How safe is your child in the car?
Everyone knows that seat belts save lives. And yet hardly anyone buckles up in the back seat. Why? Because the rear seat belt law is not being enforced at the moment, that's why! Accidents, crashes, injuries, death… no one wants to think of such "unlucky" things. But in almost all cases, luck has nothing to do with it. Most injuries are not accidents. Incidents that lead to injury are often not intended, but the risk of injury occurring if a suitable restraint is not used, is predictable and often preventable.
What could happen in a crash if your child is unrestrained? Here are some common scenarios that we encounter just about every day on the road.
#1. Child standing at dash board while mum is safely belted up in the front passenger seat. Upon sudden braking or crash, that child could hit his head against the windshield, with high possibility of ejection and fracture to skull, face and spine.
#2. Child standing on back seat looking out of back windscreen, making faces at drivers behind. That child could be thrown backwards then in any direction depending on spin or roll-over of car. An unrestrained child could suffer from a wide range of injuries due to repeated contact with vehicle's interior or worse, ejection, where he may be thrown out a window or door, skid along the road or be pinned or crushed under a vehicle. Even sudden braking or swerving to avoid collision can have similar effects. Unrestrained children can also open doors or windows and fall out of a moving vehicle.
#3. Child sitting on mother's lap in front seat or carried in mother's arms while mother is safely belted up. That infant could be crushed by front air bag if present, his chest and abdomen could strike dashboard or possibly be ejected out of wind screen. Likely injuries would include fractures to the ribs and sternum, as well as injuries to larynx, liver and spleen.
All the above scenarios may lead to serious head and spinal cord injuries where long term disability and corresponding medical costs could extend over a lifetime, and in some cases lead to death.
Why are we still so laid back concerning our children's lives? People often think, "I am a very safe driver. I take no unnecessary risks so nothing bad will happen to me". Another common thought is, "I never used one when I was young and nothing happened to me, so why does my child need one now?"
Well you may be the safest driver in the world, but you cannot control external circumstances. For example, if something suddenly dashes out in front of your car be it an animal, person or another vehicle, wouldn't you swerve sharply to avoid collision, brake hard or crash into it anyway? We also cannot compare road conditions thirty odd years ago and now. Look at the increase in the amount of traffic on the road, the decline in road etiquette, and the general speed in which most vehicles travel at. We certainly need to ensure that all occupants are as safe as possible every time we travel in the car.
How to choose the correct car seat to suit your child's age and size.
Your child has to be suitably restrained in an approved car seat from newborn until he is about 10-12 years old or about 148cm tall. This means that you will have to get two to three different car seats as your child reaches different stages of his development. Don't get worried. Here's a quick guide to help you. Remember, the best car seat for your child is one that suits your child's age and size, fits your car, and your budget!
Combination #1
Infant carrier car seat from newborn to 13kg (about 18months) + Combination booster seat from 1 year+ till about 12 years old.